Minimal campvan

We would like to enjoy the outdoors more freely, whether alone, with our dog or the whole family.

We don't need a lot of functions for our camping style. We want a simple, sturdy camper van that doesn't look like the average camper van.

We like work vans. But we also want a camping car. It would be great to have this in just one vehicle.

We built this van to make our dream come true.

The van we chose is a Toyota Town Ace (not to big, not to small).


What we like about it, is:

Comfortable size for daily driving.
The bench seat lies flat and provides a good bed space.
It looks and rides like a work van!

This kit fitted to a Toyota Town Ace, transforms into a Minimal Campvan!

Go wherever you feel like.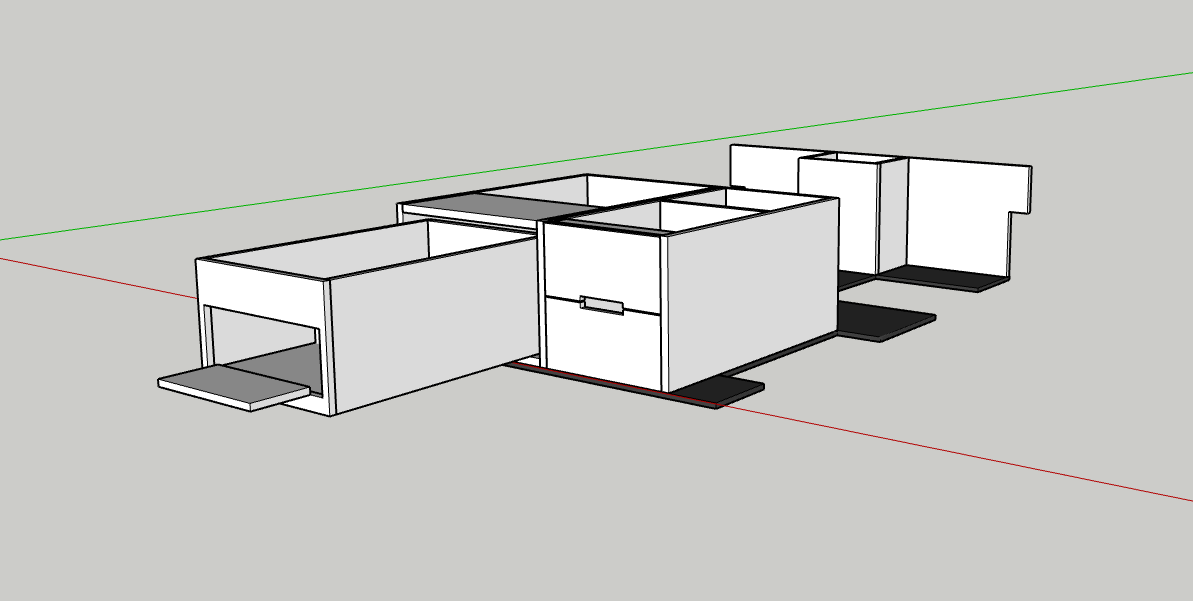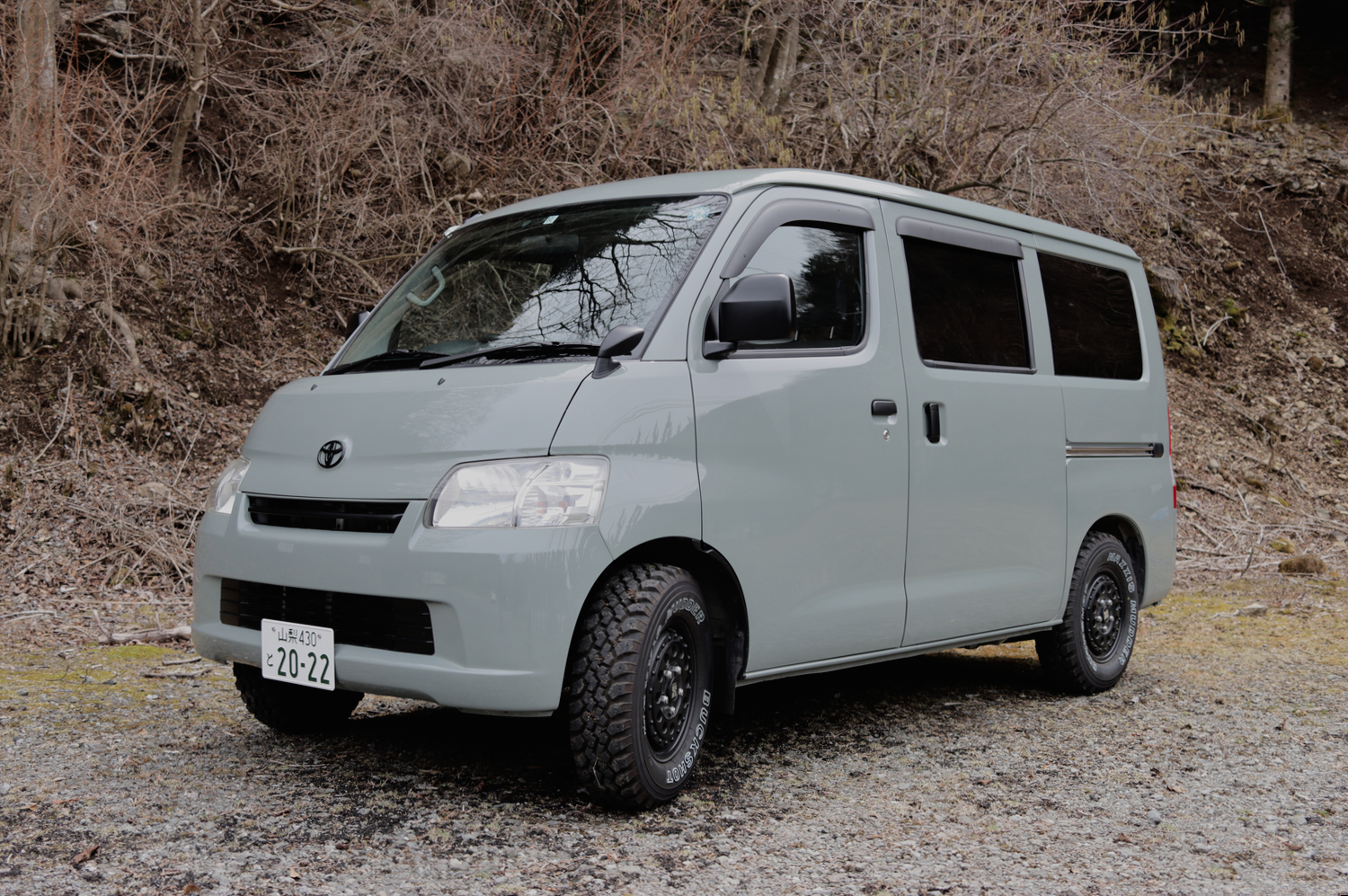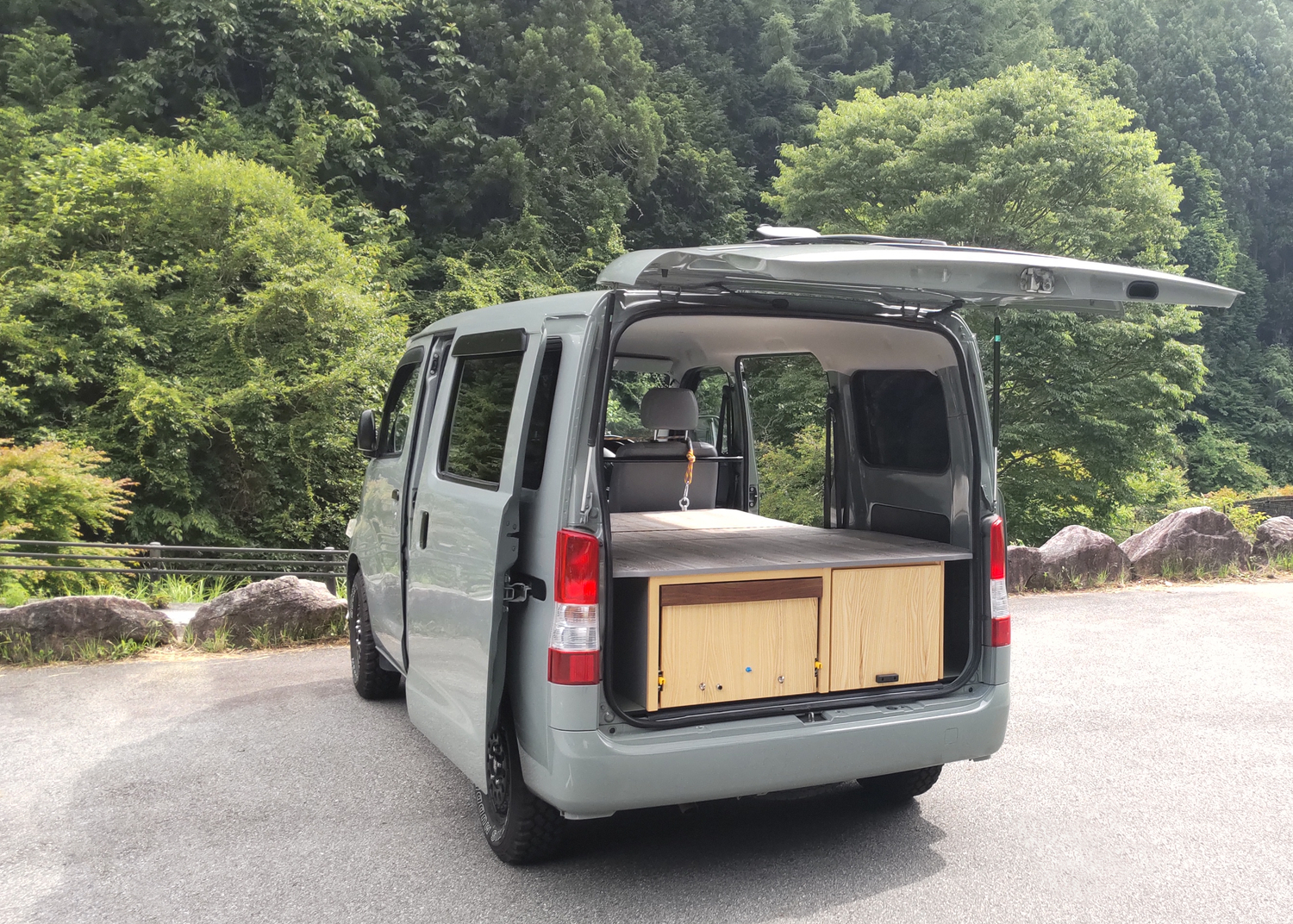 The picture above shows the back door of the van open with the camping kit installed.



Above, A closer image of the the two back boxes in the closed position.
the left hand box is a pull out kitchen unit. And the right side is a large pull out storage space for any camping equiptment, bags, clothes or other loose items.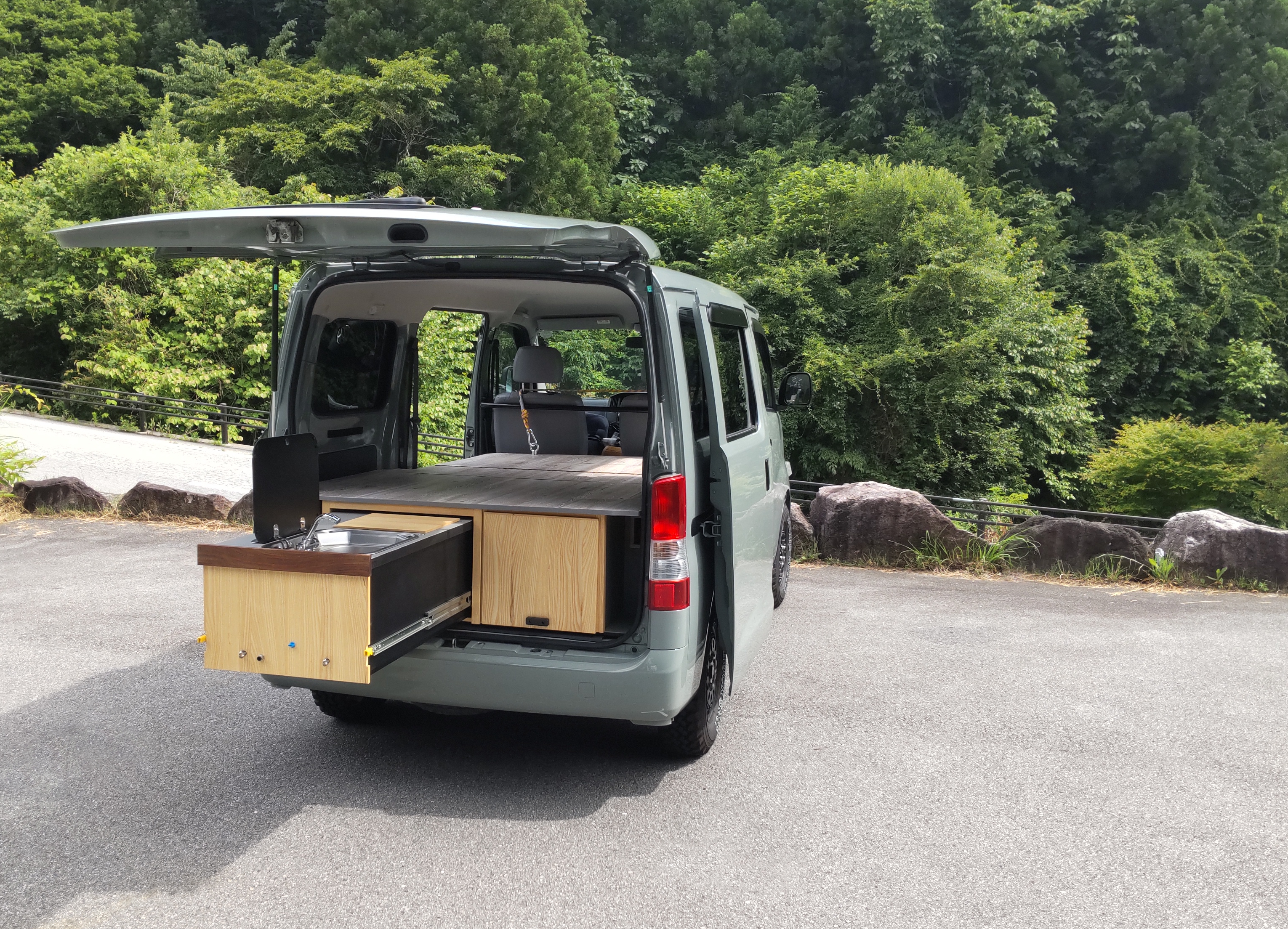 Above, the left side box is in the open posision showing also showing the sink cove in the open posision.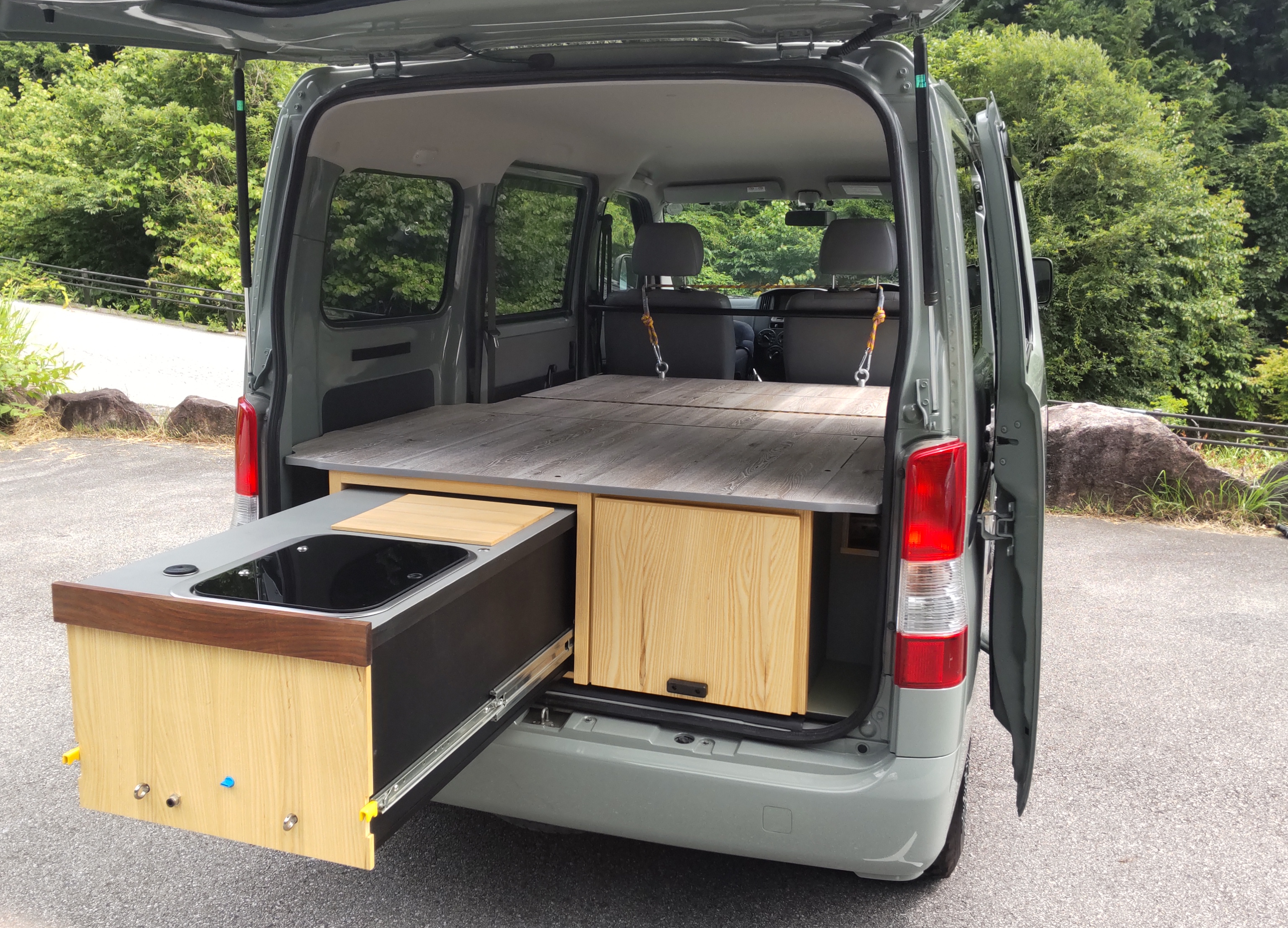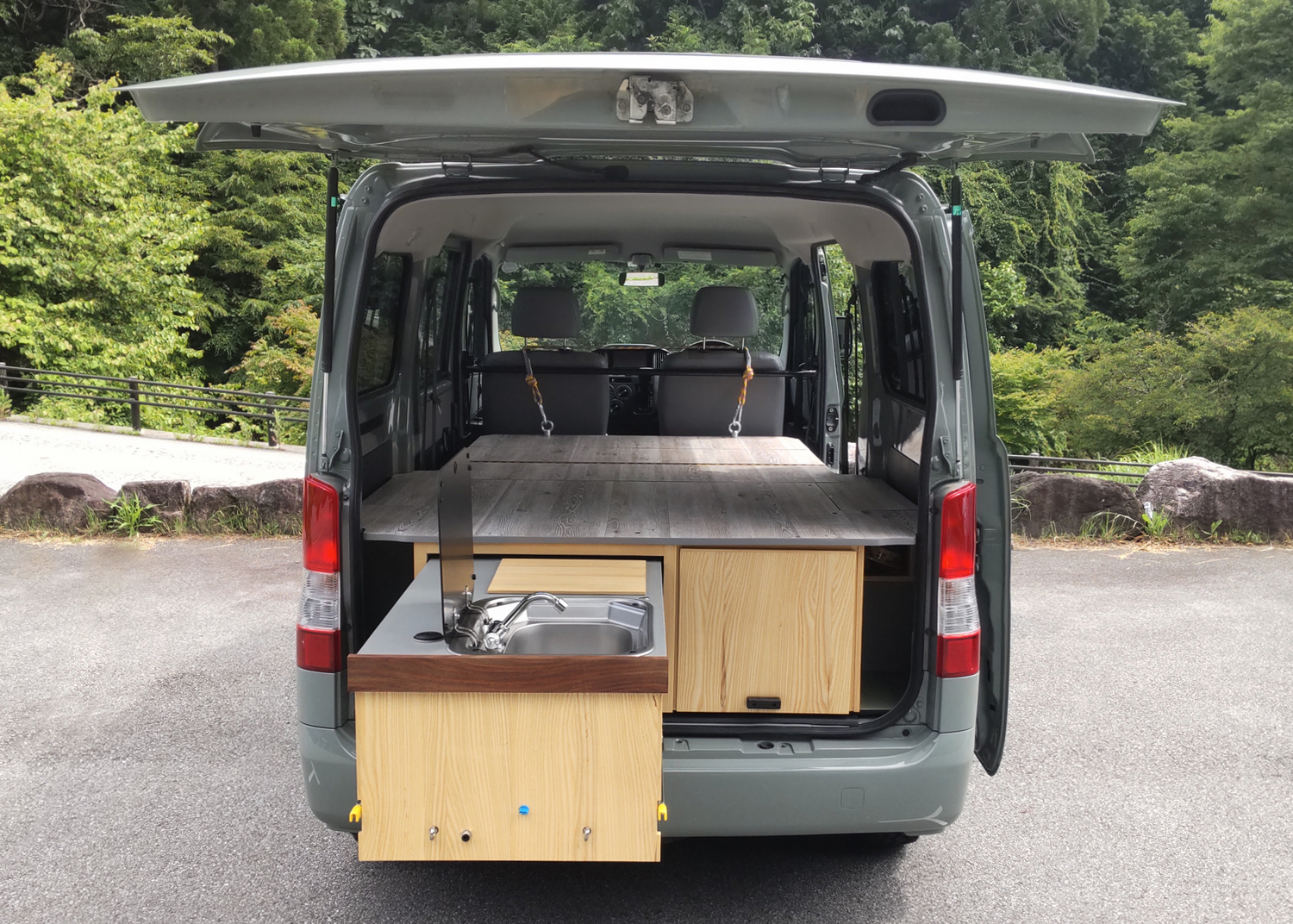 Above shows a little closer of the pull out kitchen but with the sink cover closed.
(behind the sink there is the clean water fill up inlet).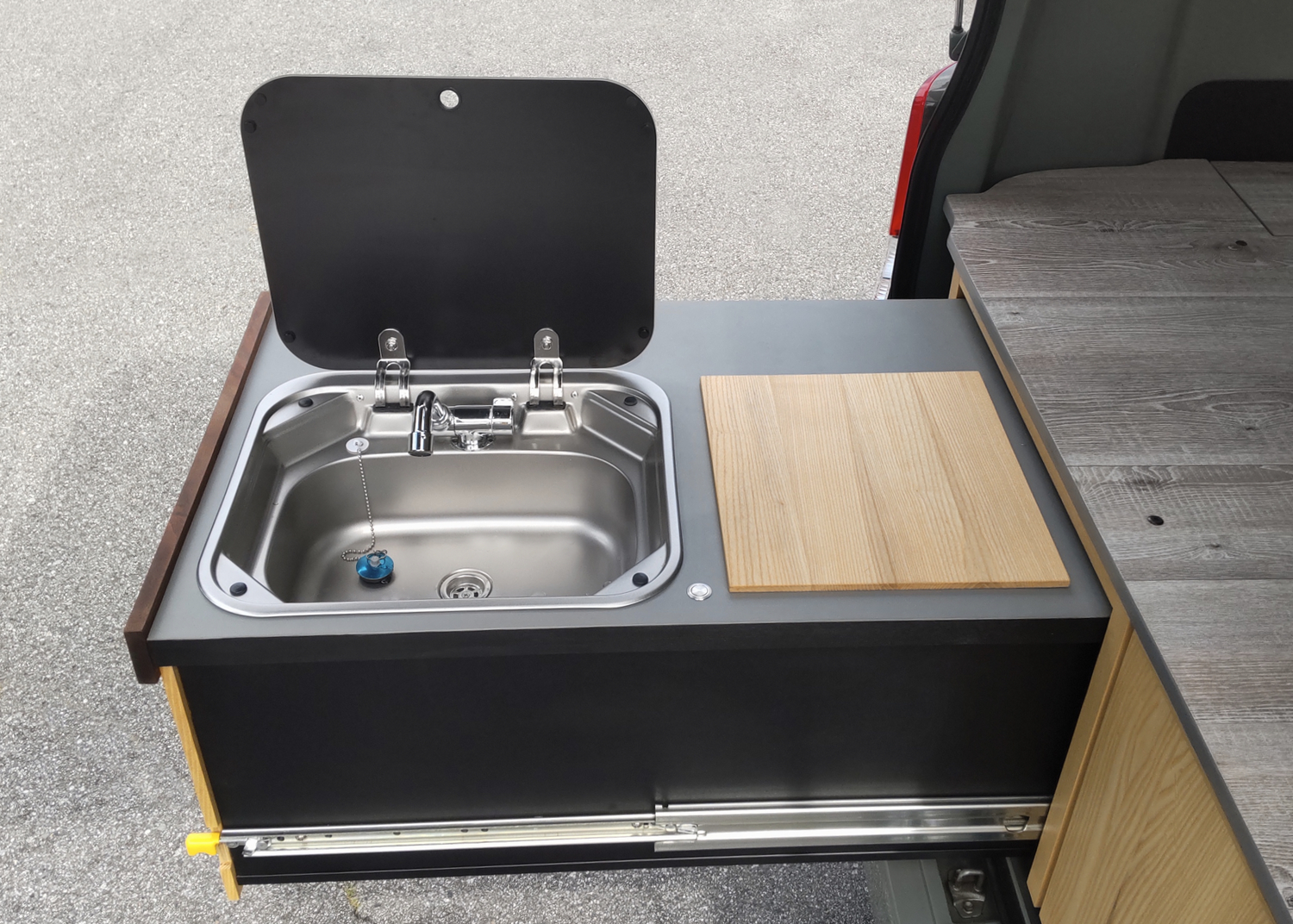 The left hand side has a pull out mini kitchen with a sink and cool storage space for food or cooking equiptment.
The sink has 2 built in water tanks for clean and grey water. fresh water can be easly filled via an inlet on the worktop. The grey water can be easly drained by a turn of a switch valve (without the need to remove the tank).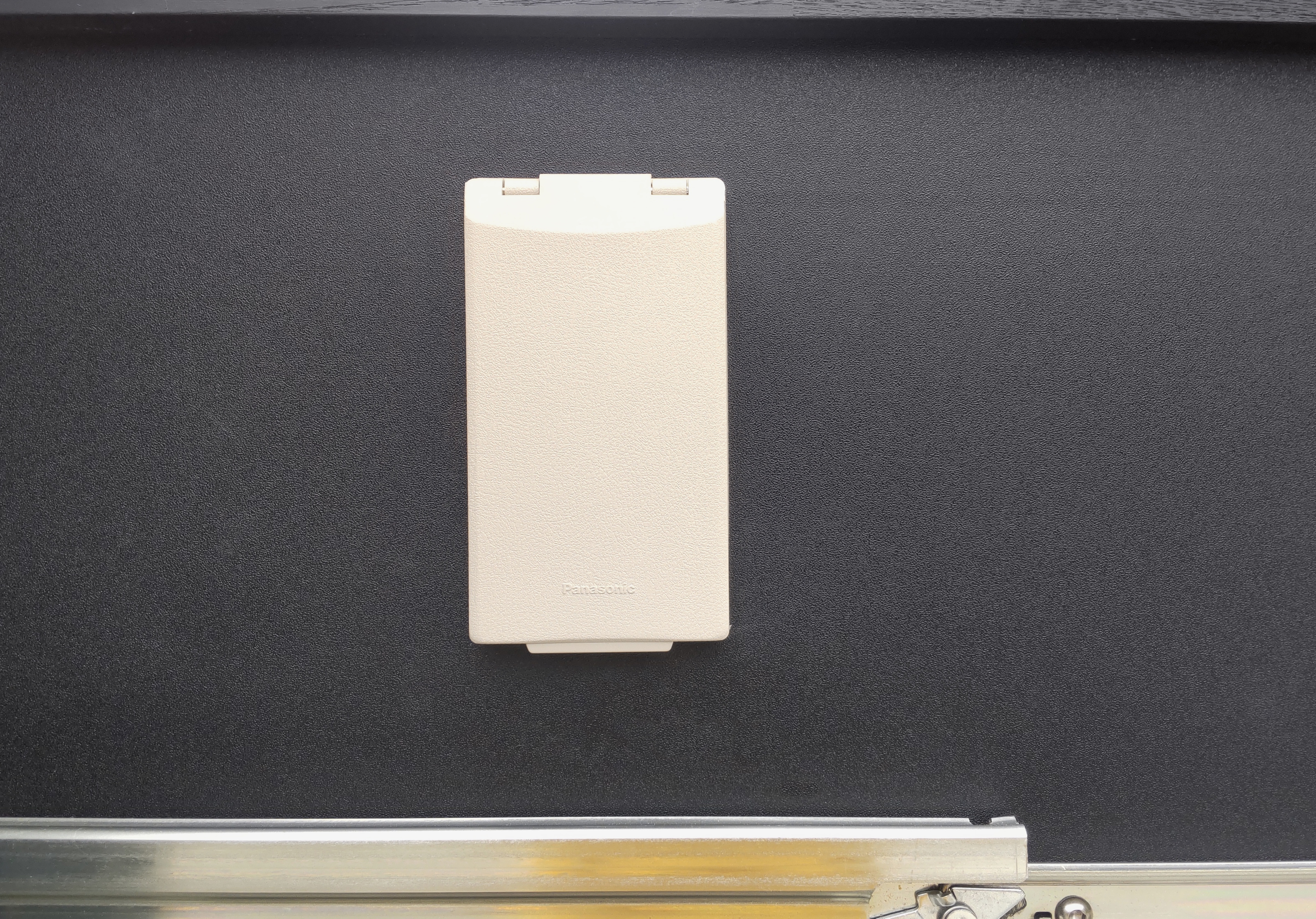 Above shows one of the power points in the side of the kitchen. one is for a input of power to charge the battery and a option to have out put power is avalibe for charhing small electronic goods such as mobile phone, laptop, cameras.

An option for a larger power unit is also avalibe as an upgrade.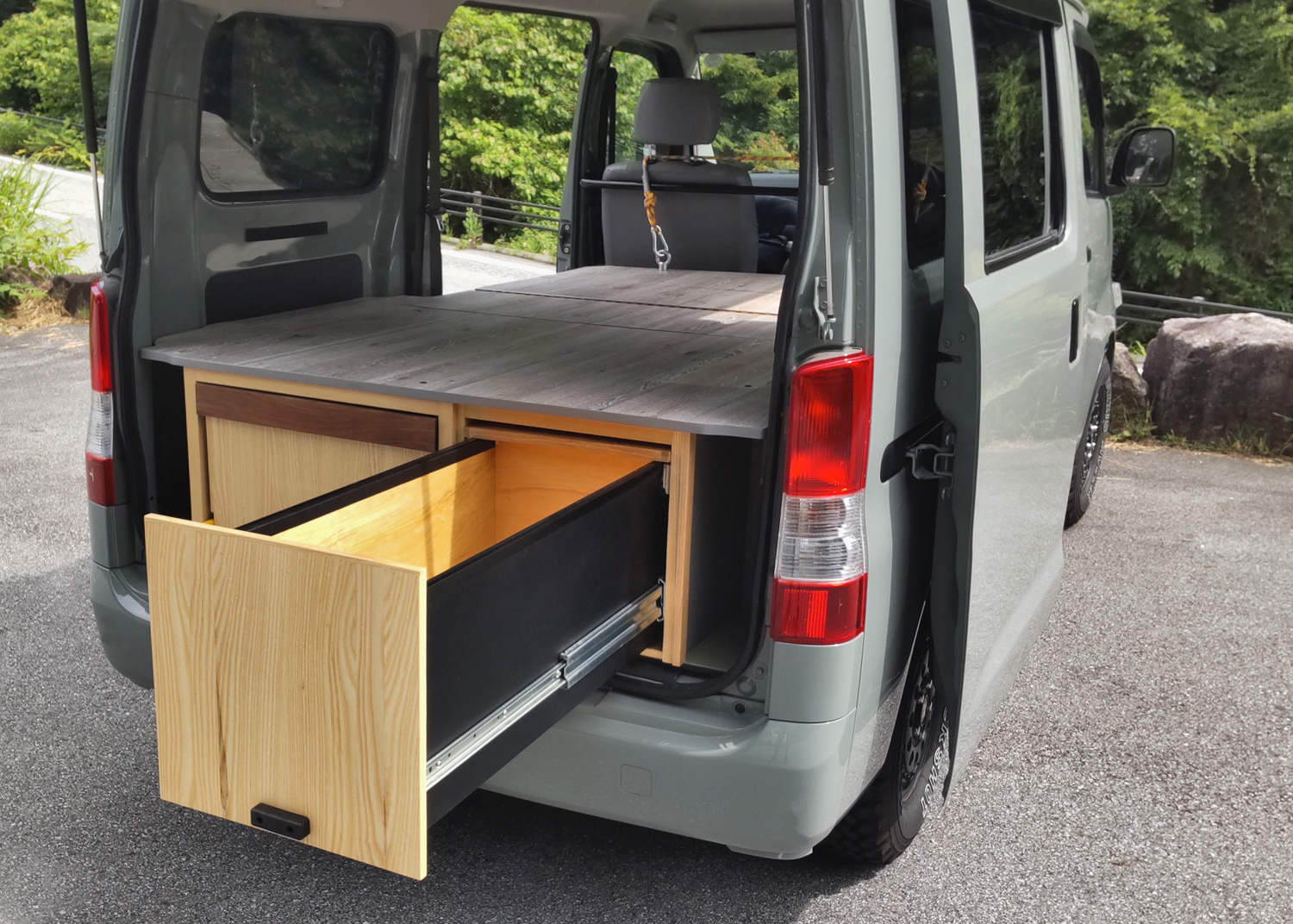 The above and bellow images, shows the right hand storage box, in the open posision.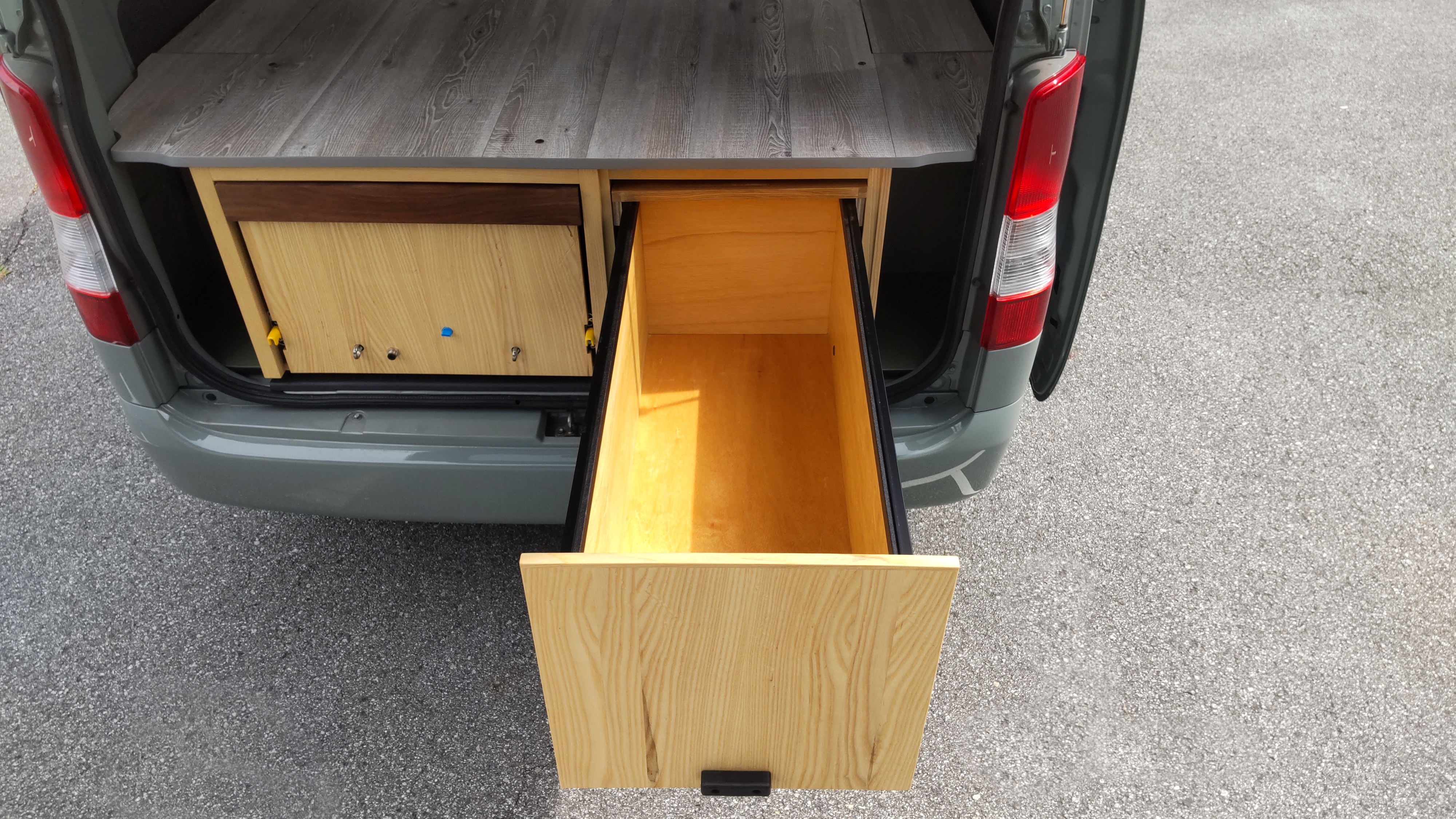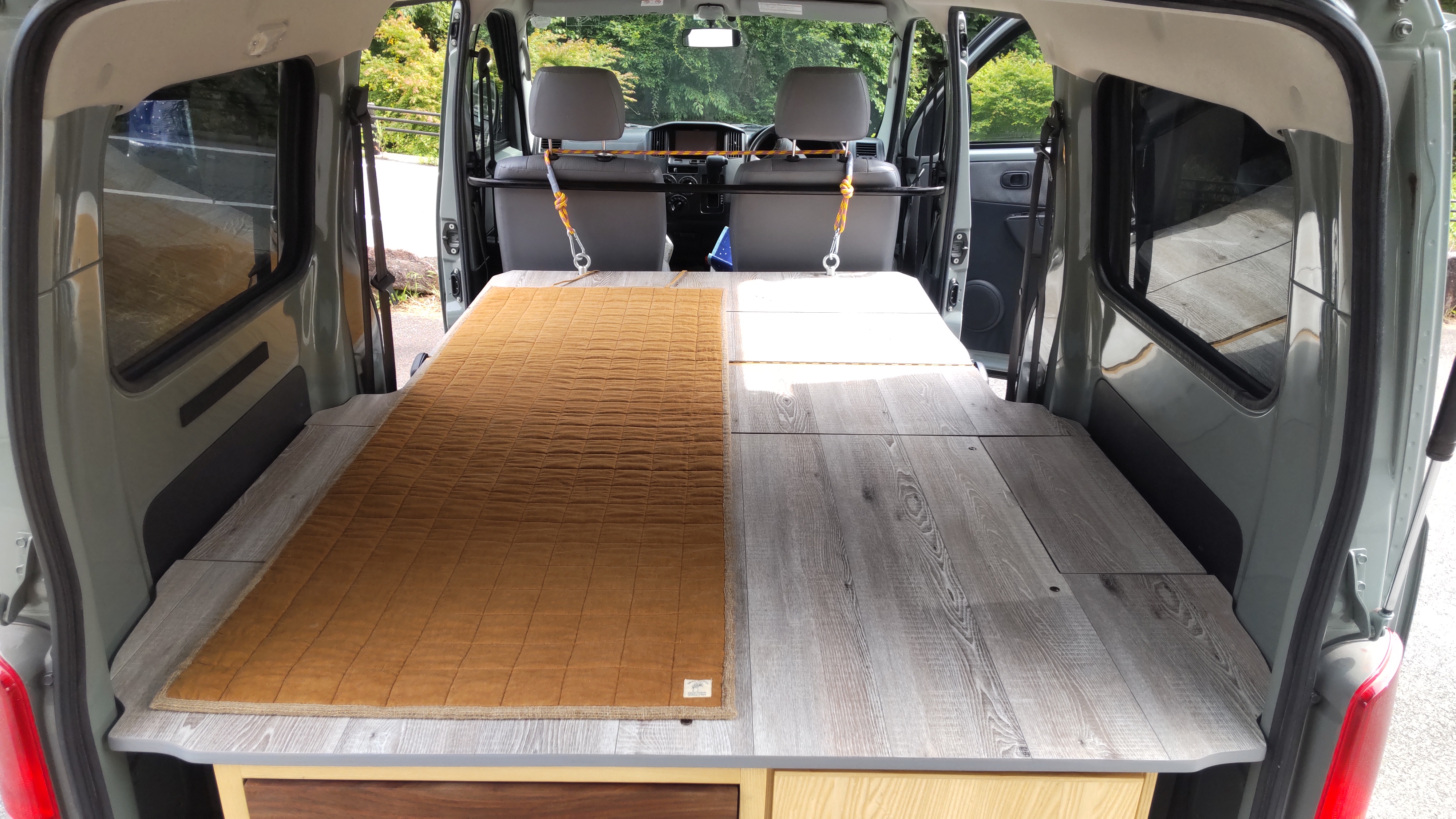 Above show the bed platform folded out. with a yoga mat for daytime sitting and relaxing. behind the tow back boxes are another large strorage space that is used for storing bedding etc.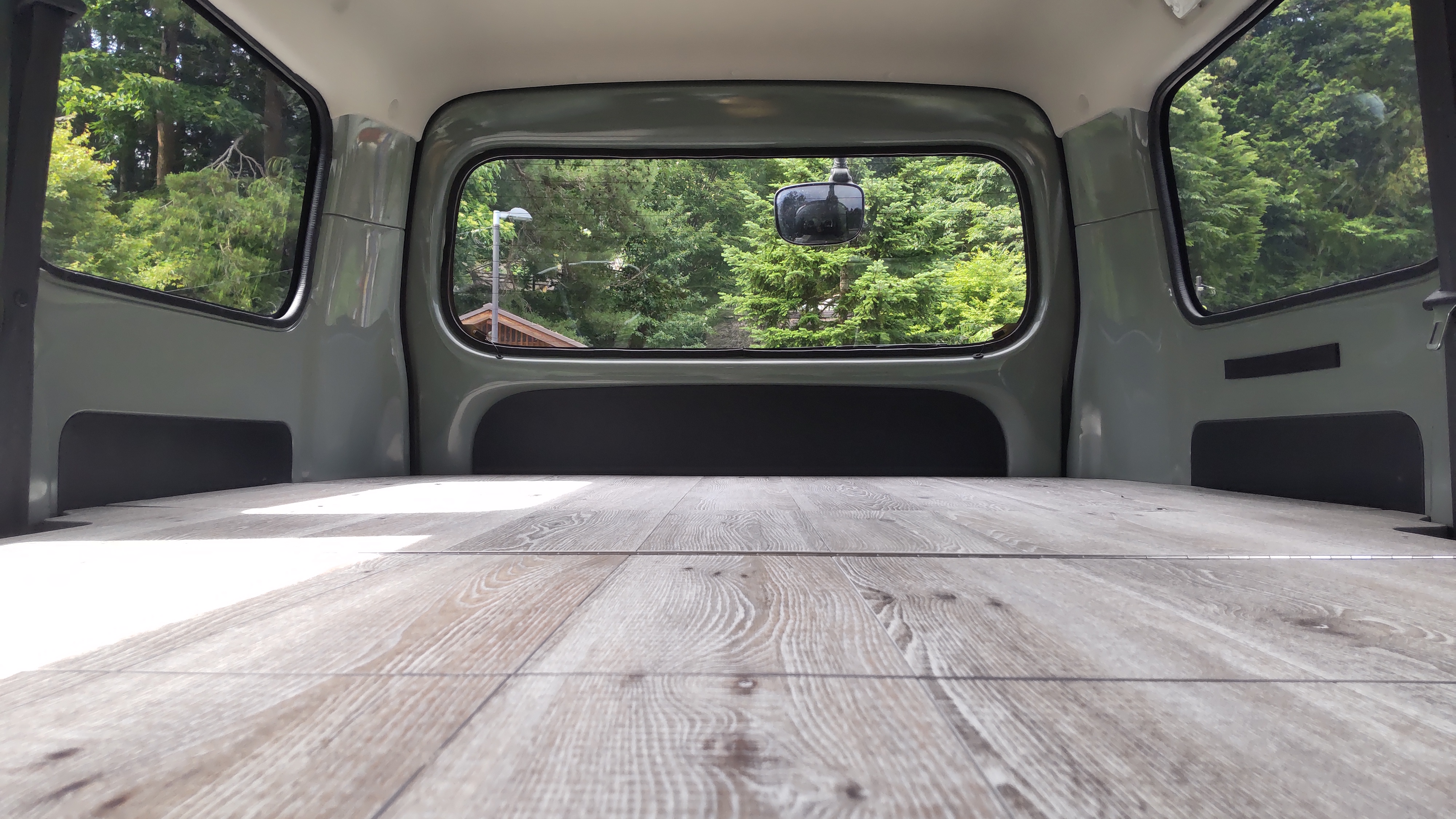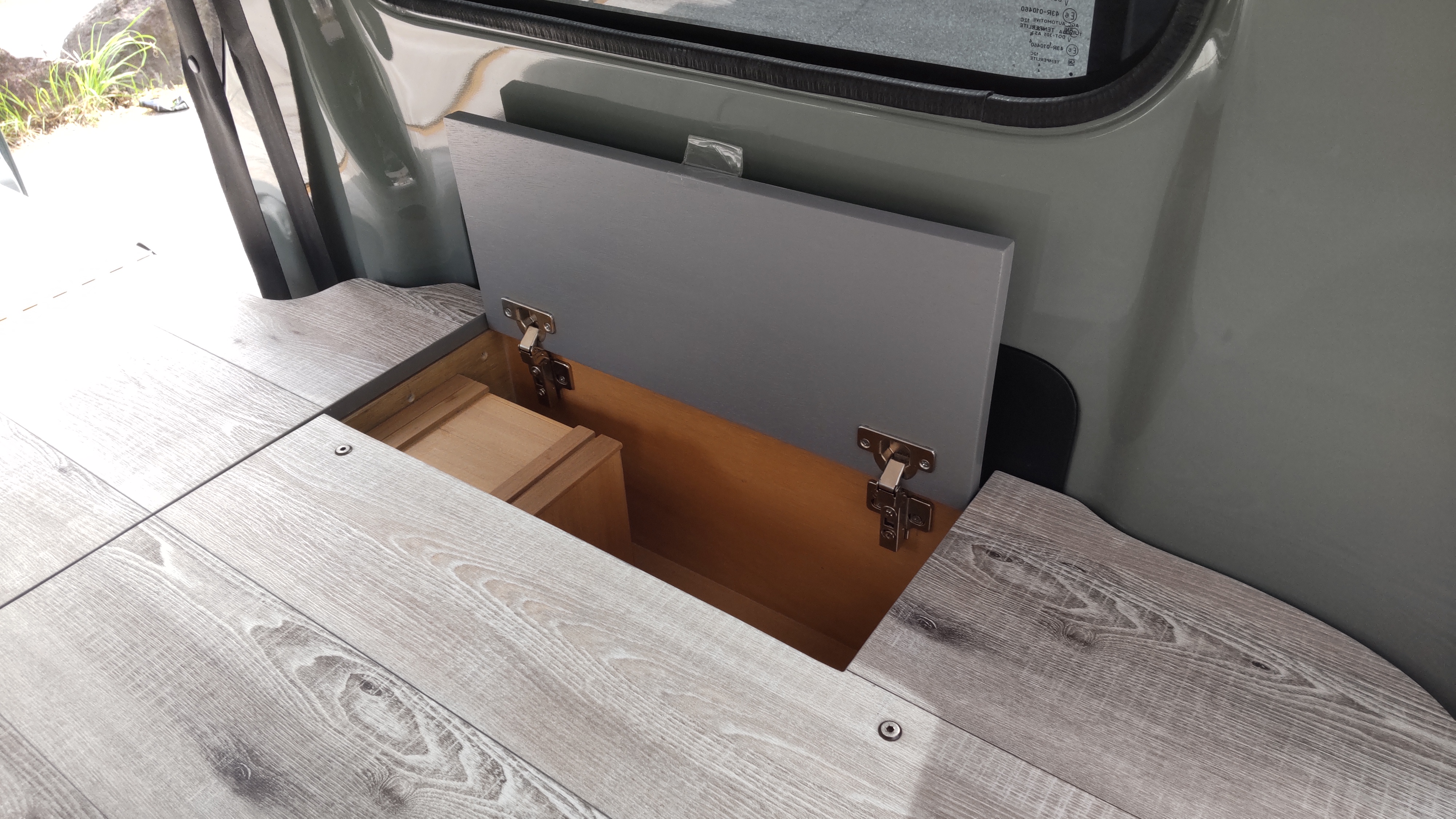 on each side of the sleeping space is a stow away storage for putting smaller items such as electronics small bags. this is a usfule space to put a few items of importance when sleeping.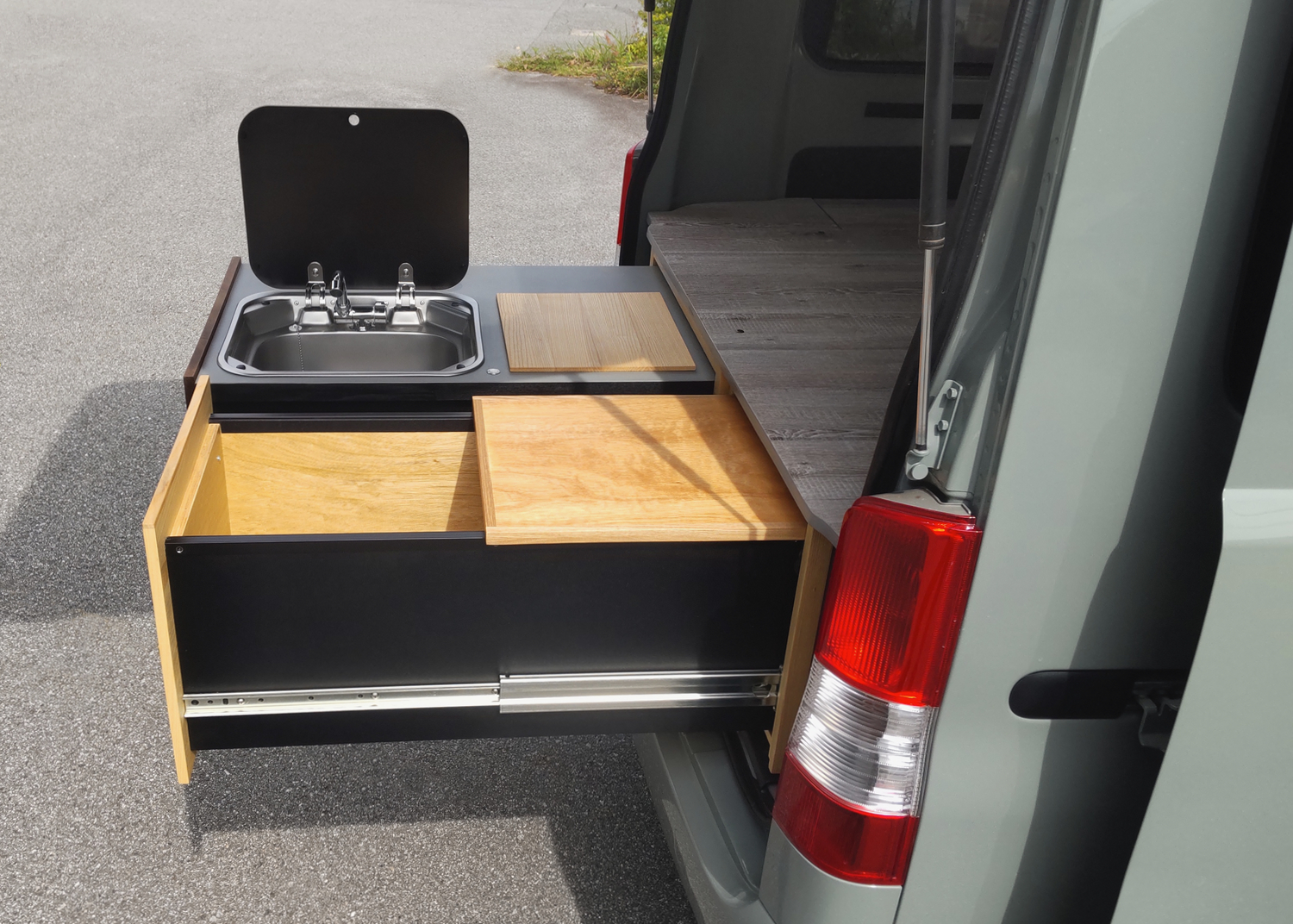 Above shows both back boxes open with the storage box also has a sliding and removable top. this can be used as an extra worktop space when prepaing food. And when removed it can also be used as a camping table top.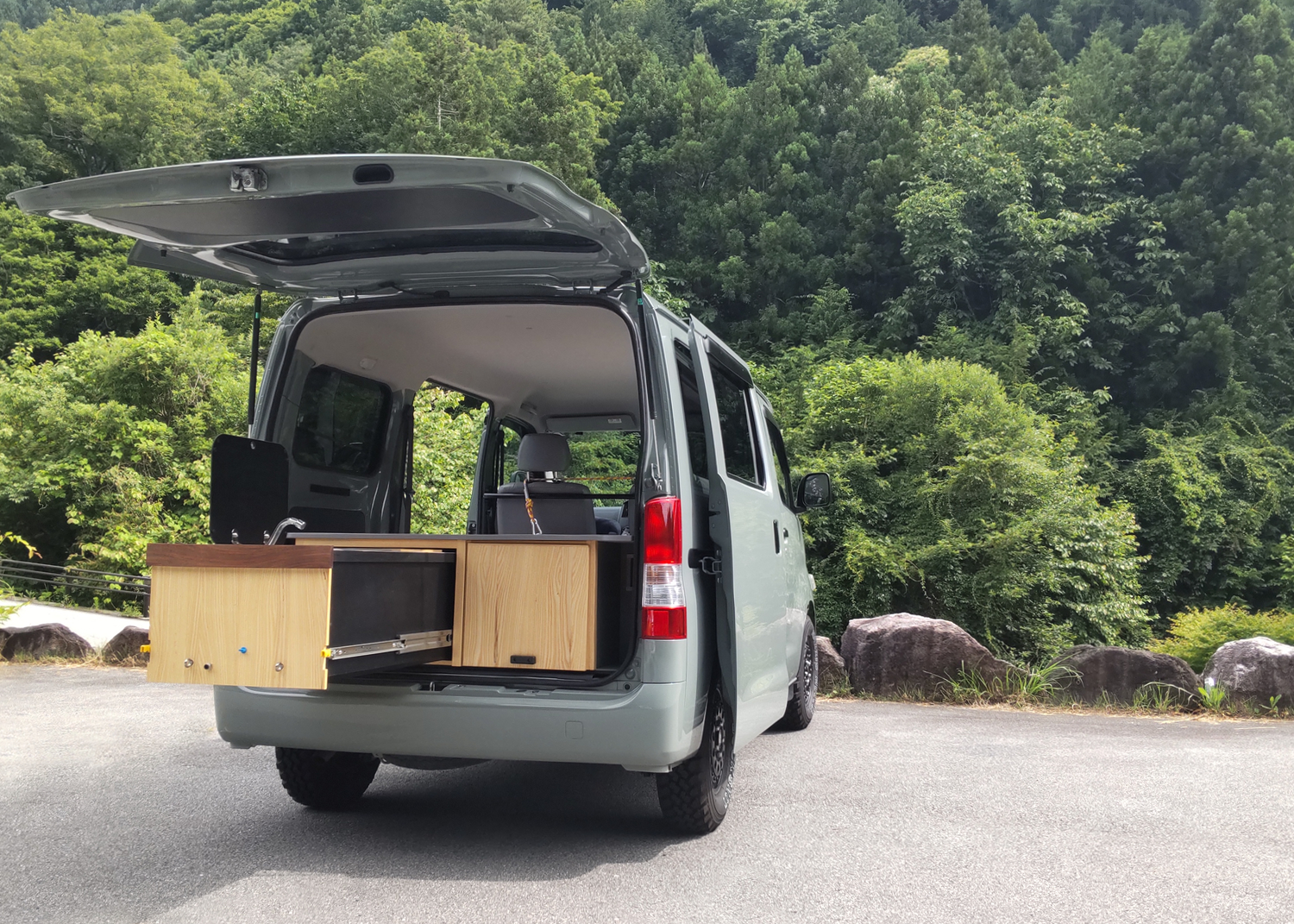 we offer three camping car kits. Each of the 3 types have optional extras.
Type A and B currently are for the Toyota townace only, however option C is for any vehicle.

Type A: (for Toyota town ace)
Basic model, simalar concept as the images above, but without the pull-outs. Instead of the pull-outs, it has an open storage space, for surfbords, snowboards, or camping and sports equiptment.
Price: from ¥500,000

Type B: (for Toyota town ace)
Standard model, as shown in the images above including two pull-out storage.
Sink and water tanks are an optional extra, for this model.
Without sink Price: from ¥700,000
+ sink and water tanks: ¥50,000

Type C: (for all vehicles)
This is the deluxe model. where we design and build a custom convertion, Just for you.
Price start from: ¥800,000

For more information please contact us, we look forward to building you a special auto camper.